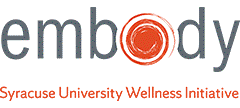 The Syracuse University Wellness Initiative aims to positively impact the health and lives of the faculty and staff of Syracuse University.
As a faculty or staff member, your contribution to the University community makes a difference every day. To ensure that you're at your best, the University Wellness Initiative provides opportunities for you to care for physical and emotional health in a variety of ways:
Events: speakers and educational opportunities to help you get moving, unwind, and connect with people who share your wellness interests
Programs: from smoking cessation to Weight Watchers, a series of offerings to help you take charge of your health
Resources: find wellness links, apps, articles and quizzes to help you on your wellness journey
We're dedicated to helping you find and support your healthiest, best self. Please contact us if you have any questions or suggestions – we'd love to hear from you.