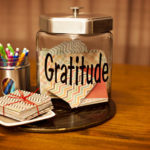 Gratitude makes us focus on the good in our lives. This doesn't mean that life is perfect. We all face obstacles or run into bad luck. But gratitude helps us appreciate the value of what we do have. And that increases the joy we feel in our lives. Creating a gratitude jar is one small step to do just that!
If you create a gratitude jar, wheel, box, etc and send a picture of it to wellness@syr.edu, you will receive a bonus gratitude gift!
Create a gratitude jar for:
your work space. Each day jot down a grateful moment at work and place in the jar.
your home. Jot down grateful moments of your life and plan a time to review them. This is a great opportunity to relive some of the best moments of the year—both big and small!
Thanksgiving. Invite all to write down things they are most grateful for. Make it an annual family tradition!
your department with your coworkers. This can be a great way to express appreciation of a job well done. Make a practice of reading five (or more) entries at monthly department meetings, stand ups, or department recognition luncheons. Whatever works best for your unit! (all coworkers who complete the challenge and work on creating the gratitude jar will receive the bonus gift!)
*Note: it doesn't have to be just a gratitude jar. You can create a graitude, wheel, box or even collage. Get creative!
Click the below links for ideas:
gratitude jar
gratitude wheel or box