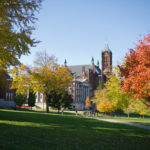 October is ideal for walking- it's the perfect time to get outside to enjoy the sights, sounds, and smells that only happen this time of year.  Walktober is designed to inspire everyone to make walking a priority- in October and beyond.
Healthy Monday Syracuse and the Syracuse University Wellness Initiative are excited to announce the fifth annual Walktober and hope that you will join us for this exciting event.
Program runs October 1-31
In this 31-day journey through the cool, colorful season, your Walktober goal is to accumulate 20 leaf icons (3, 4, or 5 points) by recording at least 30 minutes of walking/rolling and 6000 or more steps each day.
Register today!
Registration is open through October 6
Begin logging your activity on October 1 to fully activate your account. If your account shows no activity by October 6 then unfortunately we cannot guarantee that you will be able to utilize the Walktober website, mobile app or tools.
For complete details, visit the Healthy Monday Walktober page.
For more details and how to log your progress, visit our Walktober website.