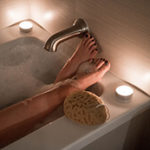 Often times, keeping up with the daily demands of work, home and loved ones can contribute to increased stress. Like laughter, devoting time just to yourself is a good way to relax and rejuvenate. Taking a few minutes each day to make yourself a priority is a great strategy to manage stress.
Use this time to do something you enjoy—read a book, go for a walk, spend time with friends or family, daydream, listen to your favorite music or some other activity that is special to you.
Mix it up! Variety is the spice of life.
Simplify — look for simple pleasures that don't require a lot of preparation or money.
Taking as little as 5 minutes for yourself to unwind each day can make a difference.
Make yourself a priority (Click each item to find out how)