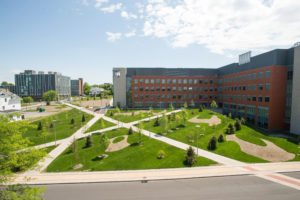 Where to find it: Lawn area next to Life Sciences Building Complex (across from Lyman Hall)
A little about it: The Syracuse Climate Change Garden was established in the Fall of 2013. It is a fully replicated long-term climate change experiment that includes common tree and shrub species of US forests, as well as several species from Europe and Asia that may become more common in the US in the future. Some trees represent dominant species of local forests (e.g., sugar maple); others are found in regions warmer, colder, wetter, or drier than Central New York.
Bonus Question: How many common tree and shrub species does the garden include?