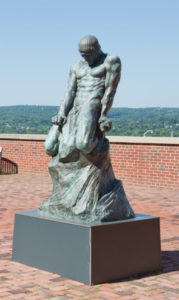 Where to find it: Patio of Falk College
A little about it: Malvina Hoffman's most comprehensive project of her long career involved modeling more than 100 ethnic portraits for the Hall of Man at the Field Museum of Natural History in Chicago. Elemental Man appears to have much of the same strength and power that characterized her Field Museum series. The male figure struggles to free himself from solid rock in an effort that portrays man's strength to conquer his surroundings. The sculpture was first exhibited at the New York World's Fair of 1939 where it received worldwide attention.
Bonus Question: When you are facing the Elemental Man, what is etched on the stone on the right?