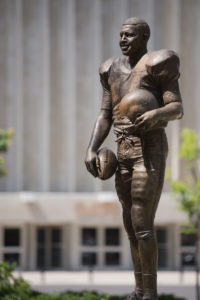 Where to find it: On the Quad between the Physics Building and Steele Hall
A little about it: A permanent memorial to Syracuse football legend Ernie Davis, the first African-American Heisman Trophy winner. The specially commissioned statue was created by sculptor Bruno Luchessi. The life-size statue depicts Davis, known as "The Elmira Express," standing in his Syracuse uniform holding a helmet under his left arm and a football in his right hand. Davis was truly an All-American on and off the field and his records, achievements and spirit will forever be a part of Syracuse University.
Bonus Question: How many spikes are showing on Ernie's left cleat?