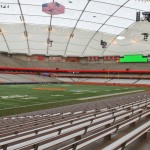 Weather not cooperating for an outside walk? Need an indoor alternative?
The Carrier Dome is open for indoor walking:
Daily*
11 a.m.-2 p.m
Upper Concourse
Enter the Dome through Gate B and check in (SU ID needed)
*There are days that the Dome is not available for walking. Please check the SU News website enter "Carrier Dome walking program update" in the search box to view dates that are closed due to an event.