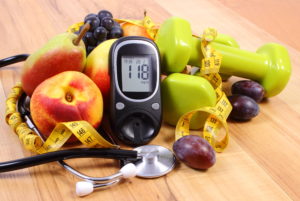 It is estimated that over 99% of an individual's care of diabetes comes from self-management. At a minimum, this typically includes following a healthy meal plan, being physically active or exercising routinely, checking of blood glucose and taking medications as prescribed. By following the steps of self-management, an individual can work to decrease the possible complications of diabetes.
Faculty and staff are invited to attend this three-part series offered by the Joslin Diabetes Center to learn tips, strategies, and recommendations for living well with Type 2 Diabetes.
Each session will be held in Hall of Languages, Room 500 from 12:15-12:45 p.m.
Part 1: What you Should Know to Live Well with Diabetes
Thursday, September 21
Presented by Karen Kemmis, PT, DPT, MS, GCS, CDE, FAADE
The first session in this series will include a brief description of type 2 diabetes and the steps involved in healthy living with diabetes. You will be given information on how to reduce the risk of complications from diabetes. The recommendations for diabetes self-management including the goals for blood glucose, blood pressure and cholesterol levels will be provided. Resources will be discussed to help you to live well with diabetes.
Part 2: Healthy Eating and Diabetes
Tuesday, September 26 
Presented by Maureen B. Franklin RDN, CDN
Eating well is one of life's greatest pleasures. This session will help you learn to balance your meals by identifying categories of foods that provide carbohydrates and understanding the relationship between carbohydrates and blood glucose. You will also learn how to use nutrition food labels and carbohydrate counting tools.
Part 3: Get Moving to Help Manage Diabetes
Tuesday, September 28
Presented by Karen Kemmis, PT, DPT, MS, GCS, CDE, FAADE
Regular exercise and being physically active can help lower blood glucose, make your heart stronger, help to lose or maintain weight loss, and help many other important factors for living well with diabetes. This session will cover the recommendations for physical activity with diabetes and strategies for success.
Register now!
If you require accommodations, please contact the Wellness Initiative at 315.443.5472 or wellness@syr.edu.
Presenter Bios
Dr. Karen Kemmis is a physical therapist, Certified Diabetes Educator and adjunct professor at SUNY Upstate Medical University in Syracuse, New York. She is a graduate of SUNY Upstate Medical University and Syracuse University. She has worked as a diabetes educator at Upstate's Joslin Diabetes Center for over 20 years. Her main focus is on physical activity/exercise prescription for those with diabetes and osteoporosis. She is currently on the Board of Directors of the American Association of Diabetes Educators.
Maureen Franklin is a Registered Dietitian –Nutritionist who works at Upstate University Hospital Joslin Diabetes Center in Syracuse NY. Maureen is a member of The Academy of Nutrition and Dietetics and the New York State & Central NY Dietetics Associations. She is a graduate of Syracuse University. Nutrition Education is her focus and passion and she has been able to pursue this by presenting numerous programs in the community during her career.