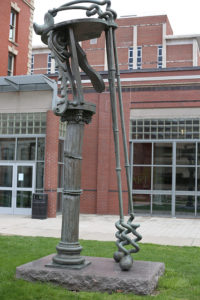 Where to find it: In front of Shaffer Art Building
A little about it: Oracle's Tears, located outside the Shaffer Art Building, was built by Rodger Mack in 1999. Mack spent 34 years at SU, first as a sculpture professor and later as the first director of the School of Art and Design in VPA. He helped to establish this program, which was split into separate schools of art and design in 2015. Stephen Zaima, associate dean of global studies in VPA, said this specific sculpture is a "result of the expertise we have on this campus," as well as a sample of modernist, outdoor sculpture with a touch of surrealism.
Bonus Question: As seen on the plaque on the sculpture, Oracle's Tears was a gift of which foundation?