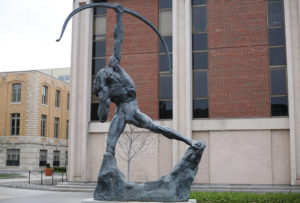 Where to find it: In front of Carnegie Library
A little about it: Before there was Otto the Orange, SU sported a variety of mascots, including a goat named Vita and a Roman-style gladiator. One of these mascots was the Saltine Warrior, a fictional Native American chief whose remains, according to legend, were found near Steele Hall. This mascot stayed with SU from the early 1930s to the late 1970s. In 1951, the senior class funded a statue of the warrior. The students of the renowned sculptor and SU professor Ivan Mestrovic competed for the opportunity to design and create the sculpture, and the winner was Luise Clayborn Kaish.
Bonus Question: As seen on the in memory plaque on the Saltine Warrior, who was the President of the Class of 1951?