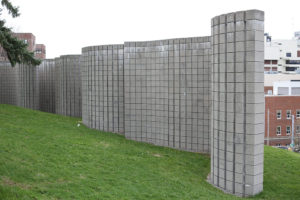 Where to find it: On the hillside of Crouse College
A little about it: Only three years prior to his death, sculptor Sol LeWitt '49 completed "Six Curved Walls," a sculpture designed as part of the "Exploring the Soul of Syracuse" initiative announced during former chancellor Nancy Cantor's inauguration. The SU alumnus built these six, 12-foot high walls to represent the breaking down of barriers between the university and the surrounding community. This is one reason why this sculpture is the favorite of Jonathan English, an assistant professor in the Setnor School of Music.
Bonus Question: In what year were the six curved walls completed?