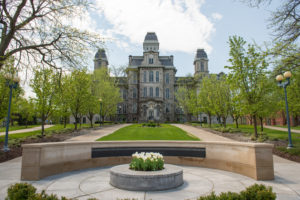 Where to find it: At the bottom of the walkway leading up to the Hall of Languages
A little about it: The Place of Remembrance was dedicated on April 22, 1990. The Place of Remembrance consists of the Remembrance Wall, a semi-circular structure made of limestone and granite, where the names of the 35 Syracuse University students who died on Pan Am Flight 103 are seen, and a circular stone bench that displays a plaque to Paula and Glenn Bouckley a couple from Clay, NY who were on Flight 103. Heather sent from Scotland was planted at the site. The inscription on the Remembrance Wall reads:
THIS PLACE OF REMEMBRANCE IS DEDICATED TO THE MEMORY OF THE 35 STUDENTS ENROLLED IN SYRACUSE UNIVERSITY'S DIVISION OF INTERNATIONAL PROGRAMS ABROAD WHO DIED WITH 235 OTHERS AS THE RESULT OF A PLANE CRASH DECEMBER 21, 1988 OVER LOCKERBIE SCOTLAND CAUSED BY A TERRORIST BOMB.
Bonus Question: As seen on the plaque on the wall, who gave a significant gift in support of the Remembrance Scholarship?