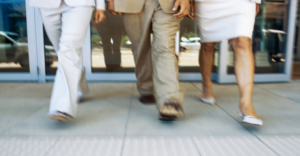 Fresh air drives fresh thinking! Try making your next conference call, one-on-one or small group meeting a walking meeting and earn points to be entered to win a Garmin Fitness Tracker!
Many people assume that serious conversations must take place within the office. In reality, many creative moments take place outside them. Walking meetings are an effective business tool – a lot of work can be achieved while moving.
Faculty and staff that participate in and report walking meetings between July 10-28 can earn points to be entered to win a Garmin Fitness Tracker! You can earn up to a maximum of 10 points for a chance to win.
I participated in a walking meeting!
Just like in-office meetings, walking meetings should have a structure:
Try to include an interesting point of reference in your route.
Focus on using the walk for health benefits and work productivity (instead of a snack run).
Inform your colleague in advance that it will be a walking meeting.
Keep your group between two to three people.
Enjoy yourself; take a breath of fresh air.
Watch this TED talk to learn more about the benefits of walking meetings and how to make a walking meeting work for you!
Your walking meetings don't have to stop when the challenge does, it's a great idea to hold walking meetings throughout the year when appropriate.