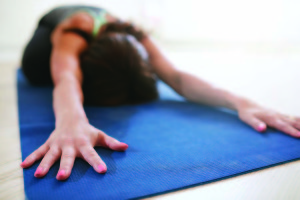 This alignment-based class welcomes beginners and challenges advanced students. By aligning digits and joints, directing energy, and creating depth with the breath, students will create an expanded sense of their yoga practice. This intentional and nourishing class will help you integrate your yoga with your life.
Faculty and staff are invited to join us for this free one-hour yoga practice.
Mondays, February 12-April 30 (no class March 12)
5:15-6:15 p.m.
Newhouse 1, Miron Special Events Room 303
Registration not required. Wear comfortable clothing and if you are able bring a yoga mat or towel.
---
Testimonials:
"The toughest yoga class you'll ever love." Jeanne Chu, Syracuse Abroad
"Now I know what integrity feels like." Maureen Breed, Office of Associate Provost Academic Programs
"Dara is a joy to learn from." Brit Cashatt, LGBT Resource Center
Dara Harper, a yoga teacher with 22 years experience, has taught every level of yoga from beginner to absurd. She has taught athletes, pre-natal yoga, therapeutic yoga, students who have been dancers, and students who can barely move. For Dara, the physical practice of yoga is about coming into balance. Some students are too flexible and work their way toward strength. Other students are inflexible and work their way toward mobility. Dara combines her concise alignment-based instruction with subtle adjustments to create a greater understanding for each individual student. Every class is infused with juicy poses, breath work, and philosophy to bend your brain. Dara has studied with many great teachers including John Friend (the founder of Anusara Yoga), Douglas Brooks, Desiree Rumbaugh, Sianna Sherman, Doug Keller, and Tom Myers, a Rolfer and author of the book Anatomy Trains. Originally from Louisville, KY, Dara moved with her family from Denver, CO to Syracuse in 2008.