Practice gratitude for a chance to win a great prize!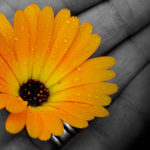 Gratitude means feeling thankful as well as expressing thanks and appreciation. There is more to gratitude than meets the eye; the benefits of practicing gratitude are nearly endless. Just like any other habit, being grateful requires practice. And you can start here with the 31-days of gratitude!
Faculty and staff are invited to participate in the 31-Days of Gratitude throughout the month of August. This is a fun, self-paced program that encourages reflection, expression, and mindfulness to boost positive feelings and well-being.
Let's get started!
Print out the 31-days of gratitude list
Place a check mark next to each act of gratitude that you fulfill

Don't feel like you have to go in order, simply complete all 31 acts throughout the month

On days it says to write down your thoughts and experiences, some ideas are to use:

a journal or notebook
post-its or scrap paper and put into a gratitude jar
social media if you want to share with others
your voice if you want to personally share with others

After you complete all 31 acts of gratitude, check in with us below by September 7 to be entered to win one of three gratitude jars!
Random prize drawing will be on September 10

Please note: prize winners will need to have their photo taken with the gratitude jar which will be added to the wellness prize winners page
I completed the 31-days of gratitude
Gratitude. Gratitude. Gratitude.
Gratitude can be a simple "thank you," but can go beyond just the momentous occasions and situations we may be grateful for. Gratitude can sometimes be taken for granted in day-to-day life. Think of gratitude as way to appreciate and refocus on what we have instead of what we lack. It can be easy to be grateful for the big things in life: good health, a job, and supportive family. Remember the small things you experience every day — you can be grateful for those as well. Think about these small things, like sending a short text to a friend or hearing a compliment from a co-worker. Being thankful for all of these can help you reap the benefits.
People who regularly practice gratitude by taking time to notice and reflect upon the things they're thankful for experience:
Stronger immune systems
Lower blood pressure
Fewer negative emotions such as envy, loneliness, and regret
Improved sleep
More joy and optimism
More positive emotions such as joy, compassion, and optimism
Improved and strengthened relationships
Find out more about gratitude
Continue the gratitude journey
At the end of August, you will be able to look back and see all of your moments of gratitude. But don't stop there, make gratitude a lifelong habit. The results are so powerful in shifting your perception, your mood, and your overall well-being.