Play Bingo for a chance to win a great prize!
Small daily changes will lead to a habit. That habit will lead to a routine, and over time, that routine will become your lifestyle. Moving more, eating well, stressing less, saving smart and being well are just some of the areas we can create healthy habits that will become a healthy lifestyle. Be well this summer and use Summer Healthy YOU Bingo to kick start changes for a healthier YOU!
Faculty and staff are invited to play Summer Healthy YOU Bingo and have a chance to win the Live Well Now Healthy Habits Journal!
Bingo runs July 9-July 27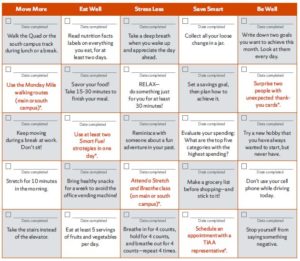 Let's play!
Print off the Bingo board [PDF]
Track your healthy activities on the Bingo board by checking and dating each square you complete
Complete at least two "BINGOs" (can be horizontal, vertical or diagonal)
Submit your Bingo board by July 31 to be entered into the random prize drawing

Submit via email to: wellness@syr.edu
Submit via campus mail to: Wellness Initiative, Skytop Office Building, Suite 101

Random prize drawing will be on Monday, August 6

All participants who complete two "BINGOs" (horizontal, vertical, or diagonal) will be entered to win the Live Well Now Healthy Habits Journal
There will be five total winners
Use these to complete the squares with orange text
Don't forget!
Bingo is self-paced, no registration required
You need to complete at least two "Bingo's" (can be horizontal, vertical or diagonal) to be entered to win
To be eligible for random prize drawing, all Bingo board submissions must be emailed or sent via campus mail by July 31