All faculty and staff that participate in our wellness programs "win" by improving their health and well-being, but it is an added perk to win an amazing prize!
Nutrition Month Weekly Quizzes, Spring 2018
Stress Buster Challenge, Spring 2018
More Stress Buster Challenge winners include
Ellen Hobbs: Regal movie tickets!
Margaret Butler, Julia Chambers, Karen Cherebin, Krista Kennedy, Jody Kenney, Amy Maye, Abigail McNeal-Harris, Susan Parks, Maryanne Patulski, Jacqueline Radell, Patricia Riley, Meredith Smith, Margaret Voss, Thomas Crowell: Free 16 ounce coffee/tea coupon!
Attitude of Gratitude Challenge, Fall 2017
Ginny Grieb, Cynthia Murray, Camille Donabella, Rebecca Shaffer Mannion and Kristen Krause: Winners of the Attitude of Gratitude Challenge gift basket!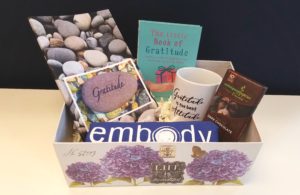 Summer Walking Programs, Summer 2017