A Non-Restrictive Approach to a Sustainable Healthy Lifestyle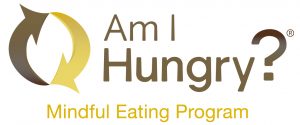 Am I Hungry?® is a non-diet, weight-neutral approach that empowers individuals to take charge of their decisions about eating, physical activity, health and self-care.  Am I Hungry?® is a comprehensive mindful eating program that guides participants to reconnect with their physical signals to guide when, what, and how much to eat without restrictive diet rules and recognize and cope with their triggers for overeating.
This eight-week interactive group program for faculty and staff will begin in person the week of Sept. 27 (north and south campus options). The focus is to help individuals break out of emotional eating cycles using practical, doable strategies.
Sign up for a virtual info session (Sept. 15 or 16 via Zoom) to see if this program is right for you! Prior to the info session, feel free to check out some program details below:
Throughout the program, trained Am I Hungry?® facilitators, Gail Grozalis and Kim DeStefano will guide participants to:
Understand why diets don't work for most people
Be in charge of their eating, instead of feeling a lack of control
Consistently eat the foods they love without guilt or overeating
Learn how to balance eating for nourishment with eating for enjoyment
End mindless, emotional eating
Restructure thinking from good and bad foods
---
According to Michelle May, M.D., founder of Am I Hungry?® and author of Eat What You Love, Love What You Eat, "Most diets fail because they are negative and unsustainable, leaving the dieter feeling guilty and disappointed. Diets focus on what people should eat without addressing why they eat in the first place. As a result, the overeating cycle is never really broken. Am I Hungry?® is an inside-out approach to eating and self-care that focuses on changing thoughts and feelings first, so changes in behaviors will last."
Although participants are not given rigid rules to follow, a study of 229 participants showed improved self-efficacy, significantly increased activity, more healthful eating, and gradual weight loss by a majority of the participants. 90% completed the program and nearly all said they would recommend it.