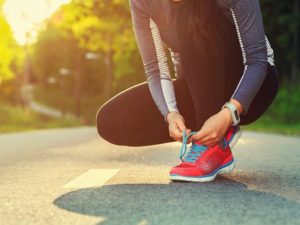 Let's lace up our sneakers and move!
Walking is one of the simplest, positive behavior changes you can make to impact your health. This summer, we encourage you to get moving, individually or as a team, through this six-week period and beyond! There will be weekly raffles and a grand prize at the end!
June 13 — July 24
June is the perfect month to get moving more!  This walking program promotes an active lifestyle and gets the campus community moving with the addition of a little friendly competition. We will be sharing a leaderboard for both individuals and for teams. At the end of each week, there will be a prize winner for things such as demonstrating the most progress or providing the most enthusiasm in the Teams group.
Registration is closed.
Let's do this!
Join the Microsoft Teams Group: Summer Strides by Friday, June 10 to get started! Then, click on the Sign up sheet! at the top and

Individuals:

Click on the As an individual tab
 Add your first name and email address

Teams:

Gather your team members (consisting of 3-10 people)
Choose your team name
Click on the As a team tab
 Add your team name and the first name, last name and email address of all members
Check out some of the details!
Tracking your steps:
Within our Teams group, you will:

Receive frequent prompts and motivation
Add your weekly steps to the input tab
Keep tabs on the leaderboard
*Complete challenge specifics will be shared within the Microsoft Teams group.
Let's talk prizes!
Weekly, random prize drawing for all participants who submit their steps:

weekly theme will be shared at the beginning of each week
must submit steps by the due date each week

Two grand prize winner categories:

Team

 

winner (highest average step total per team)

Individual

 

winner (highest overall step total)