Health and well-being is a life-long journey
Celebrate National Nutrition Month® with the Wellness Team!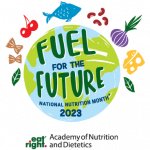 National Nutrition Month® is a nutrition education and information campaign created annually in March by the Academy of Nutrition and Dietetics.
Throughout the month, faculty and staff are invited to join programs from the Wellness Initiative that will empower you to eat mindfully, encourage you to move your body, and help you find inspiration in the kitchen!
The Syracuse University Wellness Initiative offers a variety of health and well-being workshops and programs to faculty and staff. Our workshops and programs allow you the flexibility to choose your own way to well-being, focusing on the goals that are most important to you. We are committed to supporting an environment that helps you be your healthiest, best self.
Take a look at the variety of wellness offerings below and don't forget to subscribe to the wellness email list to receive the most up-to-date Wellness Initiative information (subscribe to the email list on the wellness homepage).
If you require accommodations to fully participate in any wellness program, please contact us at wellness@syr.edu or 315.443.5472 two weeks prior to the scheduled date.
Soar into wellness: Attend monthly workshops and programs
Join Carebridge and Care.com each month for a variety of virtual workshops designed with you in mind. For additional tips, resources and recorded webinars on important WorkLife topics, bookmark the CarebridgeCONNECTS page.
Stress Check-in: Connect with Nature to Reduce Stress (Thursday, April 6, 2-2:30 p.m.)
Nature can generate positive emotions such as joy, wonder, and calmness. Learn strategies to incorporate nature into your daily life to help relieve stress and anxiety, and boost feelings of happiness and well-being. This session will include relaxation exercises focusing on meditation.
---
Parenting Check-In: When Your Teen Starts Dating (Wednesday, April 12, 1-1:30 p.m.)
When your teen begins dating, it is likely to be a new adventure for both of you. Anticipate a spectrum of excitement, confusion, and perhaps heartbreak. Join this session to embrace and understand teen romance and learn how to guide your young person into safe and respectful relationships.
---
Grief and Loss Check-in: Grief in the Spring (Tuesday, April 18, 3-3:30 p.m.)
While springtime can create a sense of emotional renewal as the hours of sunlight increase and buds appear on flowers and on trees, it may not feel so hopeful for those who are overcoming significant losses and grieving. Participate in this session to identify self-care strategies to rekindle your physical, emotional, and spiritual well-being.
---
Caregiving Check-in: Journaling for Caregivers (Thursday, April 27, 4-4:30 p.m.)
Journaling is a self-care strategy to manage stress. As a caregiver, it can provide a safe place to explore your thoughts and feelings in a non-judgmental way. Journaling, even for just a few minutes a week, can help you find meaning and purpose, and lead to new ways to share your love with the one you care for. This session is both instructional and experiential.
---
Play along: Participate in challenges and take monthly quizzes
Let's do this! Each month, you can test your knowledge of various health topics. You'll receive the answers and explanations via email after submitting your quiz. Complete the monthly quiz and be entered to win!
March: Colorectal Awareness Month
Colorectal cancer is the third most common cancer type worldwide. It is the second most common cause of cancer death, leading to almost 1 million deaths per year. This is despite the fact that effective screening techniques exist that could reduce the number of deaths from this disease.
Colorectal Cancer Awareness Month is observed to highlight the importance of screening for colorectal cancer, as well as to promote healthy lifestyle habits that can decrease a person's risk of developing cancer of the colon, rectum, or anus – the three distinct cancer types referred to collectively as colorectal cancer.

To get a full variety of vitamins and minerals, it is important to eat a variety of fruits and vegetables. There is no magic fruit or vegetable that contains it all and variety is, in general, the key to a healthy lifestyle. Fruits and vegetables of the same color often contain some similar nutrients. Therefore, it's not only a fun challenge to eat the rainbow, but it's also a good habit to build, to ensure well-balanced eating. It may also make you try new foods that you haven't tried before. Experiment and have fun!
How does it work?
The Wellness Team will provide you with everything you need to successfully deliver a team nutrition challenge! This challenge is designed to have you eat different colors of fruit and vegetables every day! The beauty of this challenge is the dates and length are totally up to you. Steps to take:
Email wellness@syr.edu to receive the challenge email templates and fun ideas to provide colorful options for your department to eat the rainbow. (It is not necessary to provide options for all participants, just a fun way to participate more as a team).
Select the length of time and dates you'd like to deliver the challenge.
Send your department the "Reach for the Rainbow" email and have people register to participate.
Send the total list of participants to wellness@syr.edu.
The Wellness Team will get a challenge kit together for you to pick up. The challenge kit will include for each person: a tracking sheet, a postcard listing ideas for each color of fruit and vegetable, a fruit/vegetable-themed pen, and some fresh fruit!
Have all participants Watch Eat the Rainbow! to learn the importance of variety, get tips for boosting your fruit and vegetable intake and see produce options in all colors.
Cultivate gratitude in the workplace
The workplace is one of the best places to practice gratitude. In addition to an increase in work performance, gratitude also helps improve employee health and well-being. A grateful attitude leads to a positive and happy mindset. Get your department started with the Gratitude Challenge!
The Wellness Team will provide you with everything you need to successfully deliver a team gratitude challenge! The challenge features 30 small, achievable goals to help you and your team express gratitude and better appreciate the little things in life. The beauty of this challenge is the dates and length are totally up to you.
Check out the challenge specifics
This gratitude challenge can be anywhere from 14 days to 21 days (your department chooses the dates and length).
Each department will receive a challenge kit from the Wellness Initiative with all necessary supplies.
The goal is for each participant to choose and complete at least one act of gratitude each day of the challenge. Participants check off each act of gratitude they accomplish.
Each department will receive a challenge kit, including:

One gratitude saying poster (sayings may vary)
One 'Life must be lived as play' poster
Positivity card packs
Thank you cards
Dove dark chocolates
Individual items for each participant: gratitude button, personal notepad (notepads may vary),  a list of 30 possible acts of gratitude

Each department organizer that completes all roles/responsibilities will receive a gratitude mug and notepad as a thank you gift!
Each department that completes the challenge will receive a gift bag of goodies to share!
Sign your team up to participate in the department challenge.

Choose a team organizer/(s) to deliver the challenge.
Choose the dates and length (be sure the start date is far enough away so there is time to pick up the challenge kit).

Send invitation email to all possible participants (give people a "join by date").
Send an email to the Wellness Team with the complete participant list.
Pick up your department challenge kit from the Wellness Initiative. After pick up, dispense items to participants.
Begin the challenge and have fun with it!
At the end of the challenge,  send the Wellness Team the names and the total number of participants who completed the challenge.
Be sure all participants complete the program evaluation to fully complete the department challenge.
If the challenge is completed, pick up the post-program gift from the Wellness Initiative.
Send team organizer/(s) customizable invitation email template, as well as two "keep the momentum" going email templates.
Put together challenge kit:

Purchase challenge items for all participants on the department participant list.
Print materials needed to participate in and complete the challenge.

Schedule time for department organizer/(s) to pick up their department challenge kit.
Be available for any questions or assistance.
After receiving the completed list from the department, send all participants a post-program evaluation.
If the department meets all criteria for challenge completion, schedule a time for the department organizer to pick up their gift and the department gift.
---
Take action: Join behavior change programs