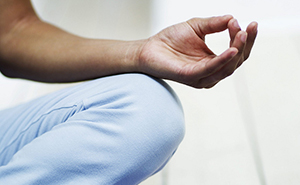 Explore the benefits of meditation. Whether you are a beginner or you regularly enjoy the practice of meditation, join in meditation at Hendricks Chapel.  Each Meditation session is one hour long: the first 15 minutes are for instruction and settling in; we sit for half an hour, and then have about 15 minutes to debrief and return the space to its former condition.  If needed, you may come "late," during the first 15 minutes or even after the sitting has begun.
Meditation: Hendricks Chapel (Small Chapel)
Fall Schedule 2017:
Mondays, Noon-1 p.m AND 5-6 p.m.
Tuesdays, Noon-1 p.m.
Wednesdays, 1-2 p.m. AND 5:30-6:30 p.m.
Thursdays, 5-6 p.m.
Fridays, Noon-1 p.m.
Visit the Buddhist Campus Ministry for details and contact information.
The Contemplative Collaborative Presents: The Stress-Reduction Room!
A place to just be!
The Stress-Reduction Room is a new space on campus initiated by the Contemplative Collaborative. Students, staff, and faculty are often fraught with stress, and rarely have an opportunity to just be themselves, as they are! This room provides such a safe space. The Stress-Reduction Room also has tools that can help anyone establish practices based in mindfulness.