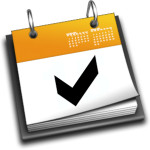 We invite all faculty and staff to participate in the Syracuse University Wellness Initiative. Check out the current and upcoming wellness offerings below and don't forget to subscribe to the wellness email list to receive the most up-to-date Wellness Initiative information (subscribe to email list on Wellness homepage).
Questions, feel free to contact us by email or calling 315.443.5472.
Email wellness
Get ready to yell "Bingo!" Faculty and staff are invited to play Summer Healthy YOU Bingo July 9 – July 27 and have a chance to win the Live Well Now Healthy Habits Journal!
Faculty and staff are invited to join Gretchen Darrow-Crotty for the Stretch and Breathe series throughout the summer. Take a break to breathe, slow down and experience the benefits.
Faculty and staff are invited to participate in the 31-Days of Gratitude throughout the month of August. This is a fun, self-paced program that encourages reflection, expression, and mindfulness to boost positive feelings and well-being.
Faculty and staff are invited to participate in a variety of work life offerings related to child care and elder care. Offerings are both in-person and via webinar.
Healthy Monday Syracuse is a national initiative to help end chronic preventable diseases by offering weekly prompts and programs to support people and participating organizations in starting and sustaining healthy behaviors. In addition to their Monday Mile walks, Healthy Monday's offerings include Move it Monday and Yoga!
Syracuse University's partnership with Weight Watchers is ongoing. If you are an active benefit-eligible Syracuse University faculty or staff member you have access to discounted rates on Weight Watcher's Meetings* and Weight Watchers Online Plus.